Disposable Diaper Cake Photos and Tips
Take a peak at our disposable diaper cake gallery full of reader photos and preparation tips.
Each cake in our picture gallery are posted to inspire you to make a fabulous cake!
If you have been inspired to make a fabulous diaper cake, and you have photos and tips to share with us, you can do so here.
---
Angel Cake Index
You Are Here: Home» Celestial Cake Index » Angel Diaper Cakes
---
Buy an Angel Diaper Cake
---
Angel diaper cake submitted to cake gallery by:
Meg S. from Preston, Idaho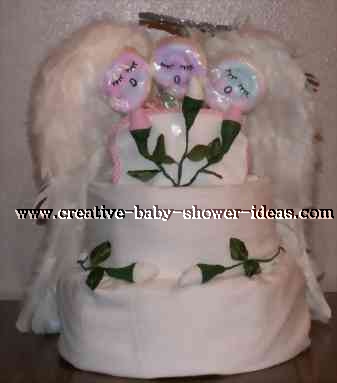 I made this diaper cake for my sister and her husband for their first baby. They are singers and the baby is going to be a girl so I came up with the idea of having singing angels for their diaper cake. It is 3 layers tall. I used baby sock roses as microphones and washcloth lollipops for the heads of the angels. Since Halloween is coming up, I also made angel wings and and halo with arm straps for the baby's halloween pictures. Everyone at the baby shower loved it! I used the instructions on this website for the rolled diaper cake design and baby sock roses.
Top of Page
---
Angel diaper cake submitted to cake gallery by:
Angie S. from Lake Worth, FL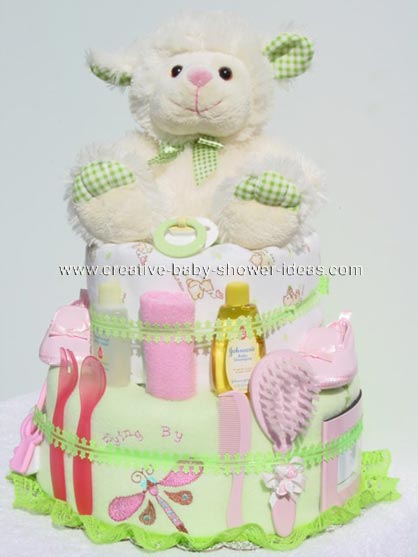 I have attached some diaper cake images. I am a relatively new internet based company and need to get the word out. I love your site. I've used it so many times....to plan my daughter's three baby showers. I made a diaper cake for her at her shower and then got so many compliments on it so I decided to open a business doing these. I also do wreaths and lollipop bouquets (out of washcloths). My website is www.TheDiaperBaker.com Absolutely I would love for you to credit me these pictures. I hope you like them....
Top of Page
---
Diaper cake submitted to cake gallery by:
Rebekah G. from Richardson, Texas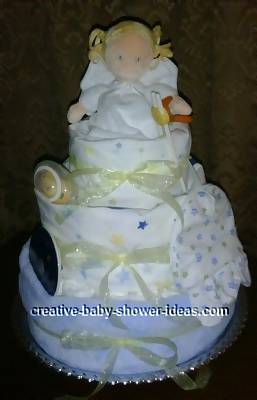 I wanted to make something special and I think this is it! Thank you all for the great tips and ideas!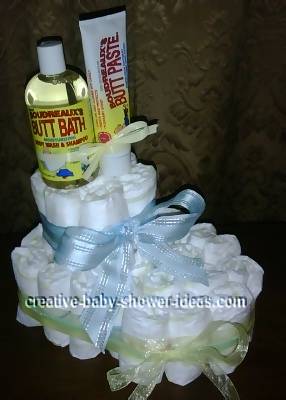 Top of Page
---
Add Your Disposable Diaper Cake Photo!